Our Year-Round Tree and Shrub Care Program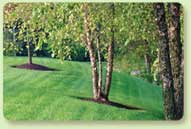 King GREEN's program for your trees and shrubs keeps your landscape healthy by controlling insects and diseases throughout the year. This program also includes balanced deep-root fertilization for lush foliage and dormant oil protection against overwintering insects.
Our professionally trained staff are experts in the care of your landscape. We treat each plant or tree individually with proper products to keep it healthy and pest-free. We also take into consideration the surrounding landscape and how an individual plant is affected. By giving each plant or tree this individual attention, you'll see the difference.
Environmental Concerns
King GREEN uses only the most environmentally responsible products available. It is our policy to minimize all pesticide use. For this reason, we will evaluate the landscape during each visit and spray only that plant material which needs spraying.
How our Service Works
King GREEN provides a continuous program of tree and/or shrub care. This means that we will continue our service, application after application and year after year, unless you tell us otherwise. No contracts are necessary. Our main goal is to have your landscape look as good as you want it to look, and if you have any questions or concerns about your landscape, we're always just a phone call or e-mail away.
1

Prevention




Early Spring

Utilization of dormant oils to minimize the use of pesticides later in the year. Oil smothers insects and their eggs. By using a sticking agent, oils remain on the plants longer, thereby increasing effectiveness. This helps to prevent damaging populations later in the season.

2

Maintain




Late Spring

These applications are designed to control insects and diseases during the growing season. Because of the high heat and humidity, the summer through early fall months have a great deal of pest pressure. Below is a partial list of insects and diseases we inspect for and treat:

INSECTS – Aphids, Cankerworm, Eastern Tent Caterpillar, Fall Webworm, Japanese Beetles, Lace Bugs, Mites, Plant Hoppers, Scales, White Fly and Willow Leaf Beetles.

DISEASES – Apple Scab, Rust, Powdery Mildew, Canker, Black Spot and Root Rot.

It is the policy of King GREEN to minimize pesticide use in the environment. During each visit, we will evaluate the landscape and spray only the plant material that needs spraying.

3

Maintain II




Early Summer

4

Maintain III




Late Summer

5

Maintain IV




Early Fall

6

Dormant Oil




Late Fall

Utilization of dormant oils to prevent overwintering insect eggs from hatching.

7

Conditioner




Winter

This specially balanced fertilizer is injected directly into the root zone of your plant material. This fertilization promotes an active root system that makes for a healthier plant system.
NOTE...A 100% pest-free landscape is not ecologically sound or possible. Some types of insects are prolific breeders and may be present between visits. Others may be carried for miles by wind and weather. Insects feeding on plants are a natural occurrence and pose no danger to healthy plants (when in controlled numbers). However, if you have any questions about your plants, please call our office or send us an e-mail. Service calls and consultations are provided at no additional charge.