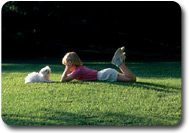 ENVIRONMENTAL CONCERNS
King GREEN uses only the most environmentally responsible products available. It is our policy to minimize all pesticide use. For this reason, we will evaluate the landscape during each visit and spray only the plant material that needs spraying.
With King GREEN's ongoing training program, we keep our technicians focused on safety- ours and yours.

King GREEN is a lawn care and pest control provider serving Atlanta, GA and Charlotte, NC. Our management team has over 100 years of combined experience with Lawn, Tree and Shrub Care in the Atlanta and Charlotte areas.
King GREEN's total landscape specialists are the best-trained in the industry. In addition to extensive in-house training programs, they also attend professional workshops and seminars every year. A King GREEN specialist is trained to evaluate, apply and communicate. This means they look for problems or potential problems on every visit. They take the time to let the homeowner know what's being done or what needs to be done.
With our state-of-the-art, wide-area network communication system between offices and every technician in the field, we're ready and available to answer your questions. Service calls and consultations are provided at no additional charge. We at King GREEN make every effort to be "The Finest Total Landscape Service Available."
Guarantee
Because of our confidence in our programs and service, we guarantee your satisfaction with each and every application. If you are not completely satisfied with the results of an application, we will reservice your lawn or landscape at no charge, or we will refund the cost of the application in question. Because of the many variables we must face in dealing with nature, this guarantee does not include plant replacement.


Grubs Rubbing You the Wrong Way?

White grubs are the larval stage of several types of beetles. The adult beetles don't do any harm to lawns, but the grubs can completely destroy turf if they're not controlled.
tell me more
Mowing: A Hot Summer Topic

No matter how you cut it, mowing has a lot to do with keeping your lawn in good shape. Here are some tried-and-true mowing tips for the summer season:
tell me more