Sign up for a year of Termite and Pest Control Service and receive your fourth treatment for free!
Termite and Pest Control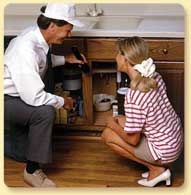 King GREEN's "Quarterly Pest Control Service" offers treatments that are designed to keep the inside of your home as free of pests as humanly possible.
* No clearing of cabinets necessary
* Satisfaction guaranteed or your money back
* Member of the Certified Pest Control Operators and the National Pest   Management Association

How our service works:
GUARANTEE
Because of our confidence in our programs and service, we guarantee your satisfaction with each and every King GREEN service. If you are not completely satisfied with the results of any application, we will gladly reservice your home or refund the cost of the application in question.
Our Termite and Pest Control service area covers many areas not covered by our Lawn Services. Schedule an appointment to see how our thorough, proven and convenient Pest Control Service can work for you. Call today to reveive a free estimate.

No Bugs, Guaranteed!

On your initial service, we'll treat both the exterior and interior of your home. With today's advanced pest control materials, we need to service the inside of your home only once to set up a permanent barrier around possible entry points. On our quarterly follow-up visits, we'll service the exterior of your home with a barrier that will keep pests from re-entering from the outside. If there is ever a concern that requires additional interior treatments, these will be provided whenever needed without any additional cost.
What our service covers:
Our service includes most common crawling insects and rodent pests. There is no extra charge for ants, spiders, roaches or other common pests.
What our service does not include:
Our service does not include wild animals, squirrels in the attic, lawn insects or woodpeckers.
Termite Protection Programs
King GREEN IPM offers the most comprehensive and aggressive systems available to eliminate termite colonies around your home. With our Advance Termite Bait System and liquid barrier of Termidor SC, we can offer several different options to meet our homeowners' needs. Call today to schedule an appointment for Termite and/or Pest Control Service.